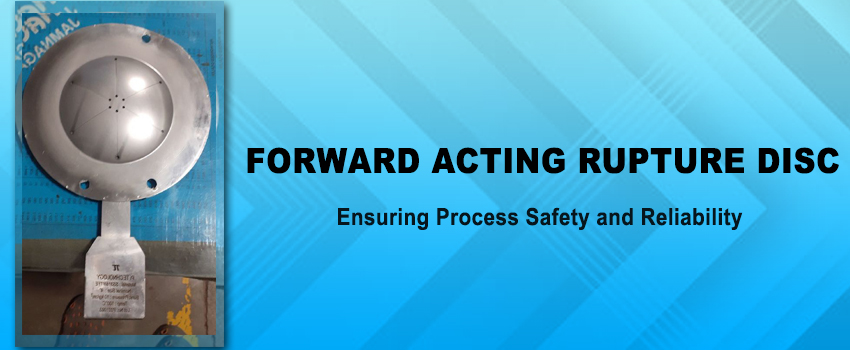 A forward-acting rupture disk is a vital safety tool used in a variety of industrial processes. It safeguards employees, systems, and equipment from potentially dangerous circumstances.
In the event of an overpressure occurrence, these disks are intended to burst and release pressure. This averts catastrophic failures and guarantees process safety. By stressing their advantages in terms of overall process safety, we shall discuss the relevance of forward-acting rupture disks.
Protection and Pressure Relieving
Pressure relief and system and equipment protection from overpressure conditions are the two main purposes of forward-acting rupture disks. These disks serve as safety in industrial operations where high pressures may accumulate, preventing damage due to excessive pressure.
The rupture disk ruptures when the pressure reaches a critical level. This releases extra pressure and averts catastrophic occurrences like explosions or structural collapses. Equipment, workers, and the environment are all safe thanks to this crucial pressure release system.
Quick and Trustworthy Response
In the event of overpressure occurrences, forward-acting rupture disks provide a quick and dependable response. These disks are intended to burst at a specified pressure, releasing the pressure immediately and in a controlled manner.
They respond quickly, reducing the chance of harm or failure by releasing pressure as soon as possible. Forward-acting rupture disks are an essential safety component in industrial operations where the timing of pressure relief is significant. This is due to their dependability and predictability.
Compatibility and Flexibility
Forward-acting rupture disks are incredibly adaptable and work with many different process applications. When pressure relief is needed, it can be put in pipelines, vessels, storage tanks, and other crucial parts. These disks may be customized to meet the needs of a particular process. They are offered in a broad variety of sizes, materials, and pressure ratings.
Forward-acting rupture disks are suited for a variety of sectors, including oil and gas, chemical processing, and food and beverage. They ensure process safety in a variety of applications.
Zero Upkeep Operation
Maintenance-free functioning of forward-acting rupture disks is one of its key features. Once put properly, these disks don't need any ongoing upkeep or changes, making operation simple.
As a result, there is no longer a need for periodic inspections or replacements, which lowers maintenance expenses and downtime. Forward-acting rupture disks are an efficient safety solution for industrial operations because of their simplicity and dependability.
Flexibility in Design
The design flexibility of forward-acting rupture disks allows for the adaptation of certain process needs. To provide the best pressure relief for various purposes, they can be made to burst at certain pressure ratings.
These disks can be created to suit criteria for compatibility, temperature, and corrosion resistance. Forward-acting rupture disks' adaptable design makes it possible to integrate them into current process systems and offer specialized safety solutions.
Observing Industry Standards
Forward-acting rupture disks are created following rules and industry requirements. Process operators and engineers may rest easy knowing that ruptured disks will be of the highest quality. They will certainly function as expected thanks to these requirements.
Forward-acting rupture disks are a reliable option for process safety since they comply with industry standards and fulfill their strict pressure relief requirements. For example ASME (American Society of Mechanical Engineers) norms and regulations.
Increased Process Effectiveness
Forward-acting rupture disks assist in increased process efficiency by offering dependable pressure release. By reducing pressure buildup and system failures, these disks aid in maintaining ideal operating conditions.
To maximize production and reduce interruptions, operators can operate systems and equipment within certain pressure limitations. All thanks to the assurance of process safety. Forward-acting rupture disks improve process efficiency and reliability by being incorporated into the design.
Conclusion
In many industrial applications, forward-acting rupture disks are essential for maintaining process dependability and safety. They are essential safety components because of their capacity to relieve pressure, quick and dependable reactions, adaptability, and maintenance-free operation. They also offer design flexibility, compliance with industry requirements, and a contribution to increased process efficiency.
Industries may reduce the hazards brought on by overpressure incidents. This is possible by integrating forward-acting rupture disks into their process systems. They should also place a higher priority on the security of their workers, the environment, and their tools.